Lucite Awards & Deal Toy Shapes
1. Choose a shape from below. 2. Email your logos, layout or text or use the step-by step request form. If you do not have a design or layout, indicate the colors to be printed and as many details as you can for an approximate quote:
Email Us Here: Detailed Quote Form or Call: 401-841-5646 Quoting Dept
We are the leading and oldest manufacturer of Lucite in the USA! We have several sizes available for most shapes. Please call 800-520-1691 ext 208 for live help or email us all your specifications. Lucite is hand-made to order from a liquid!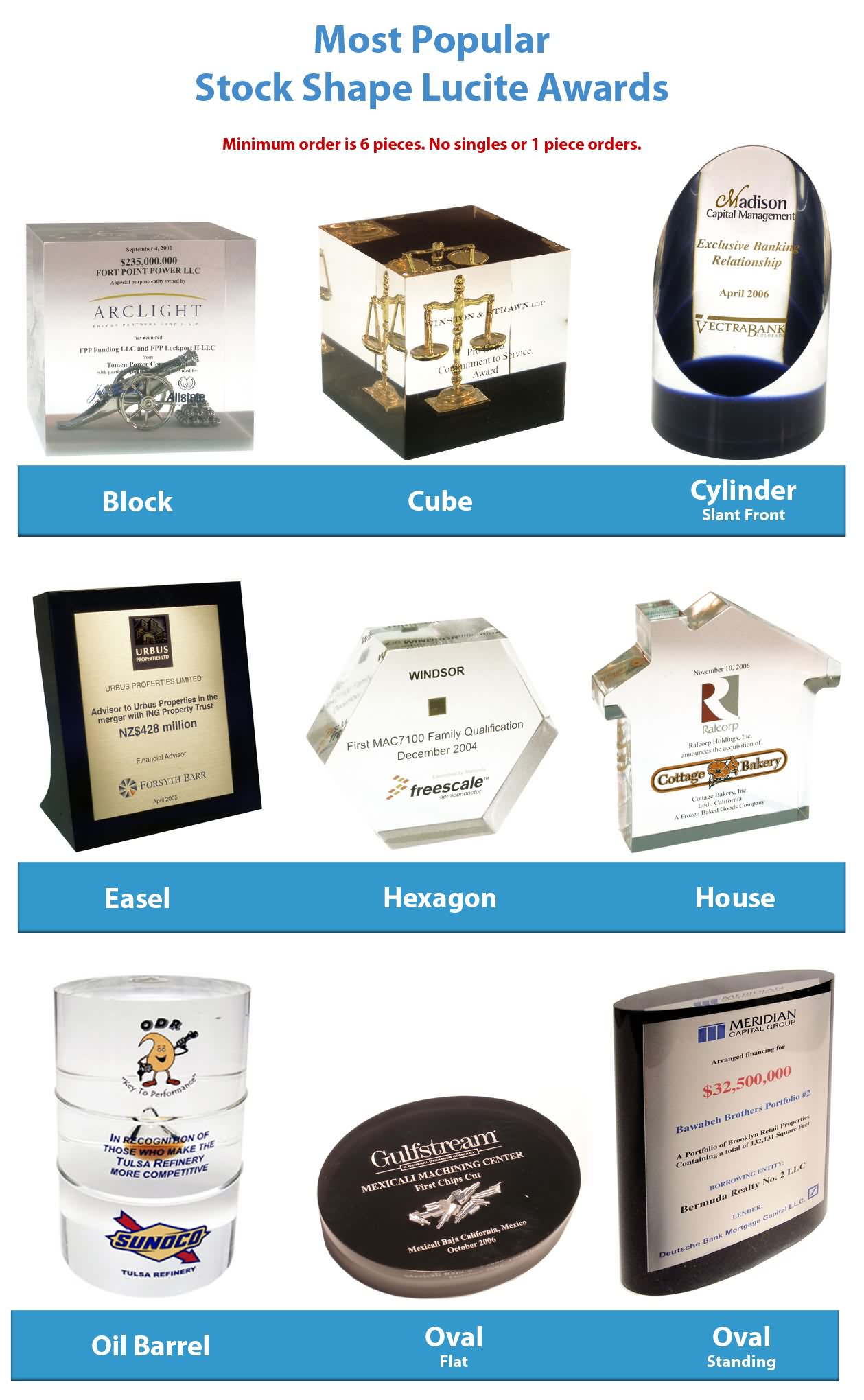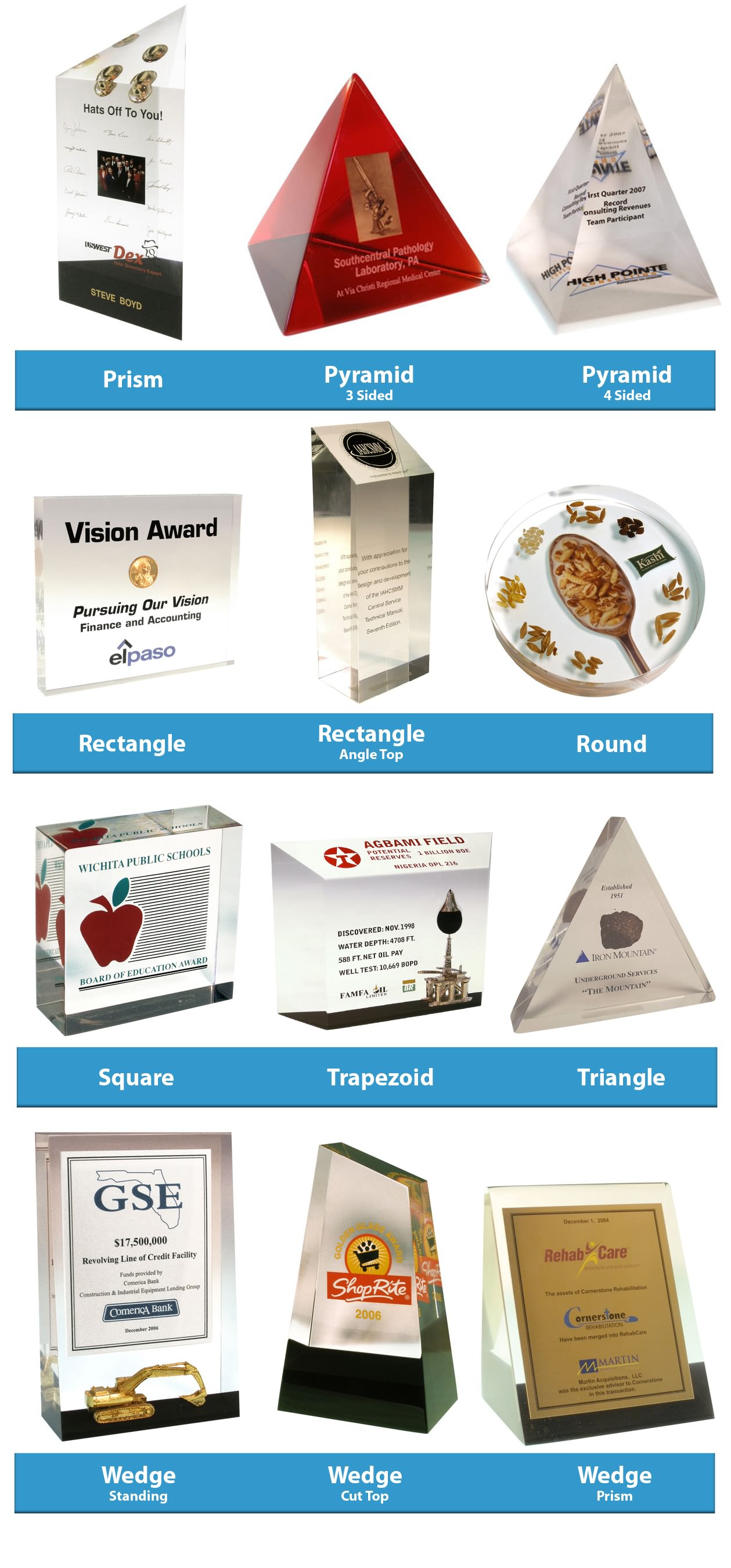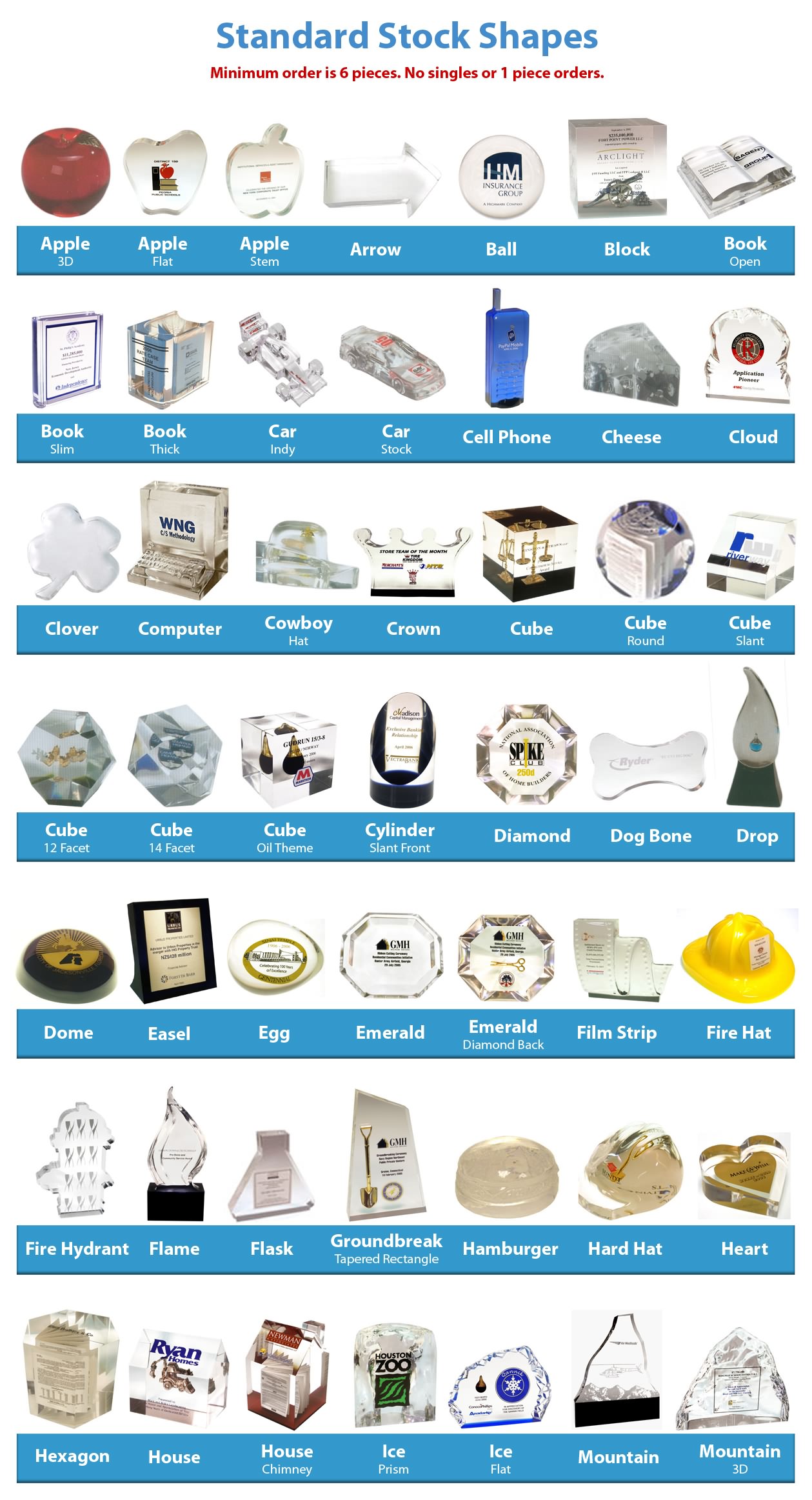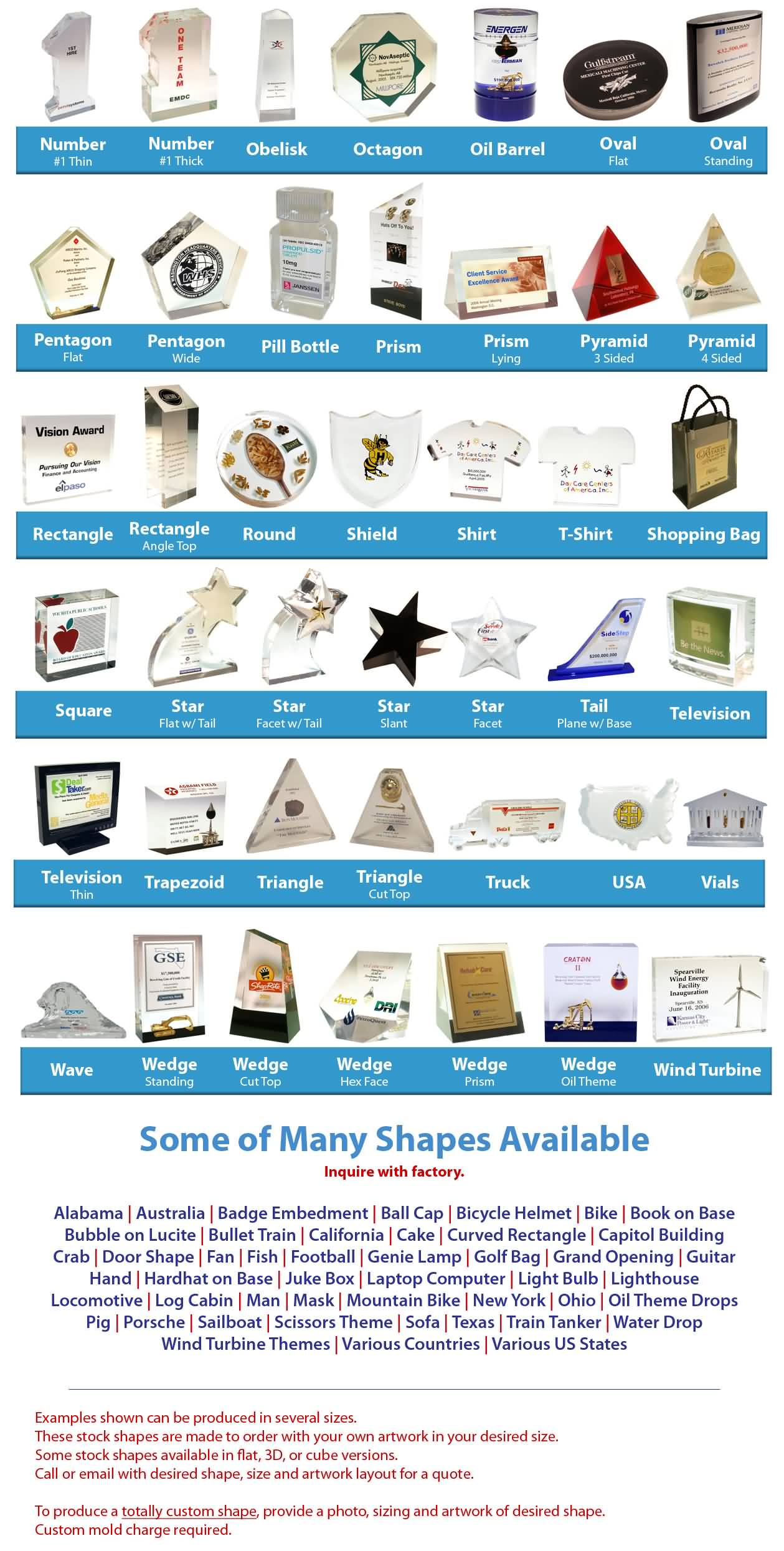 Use this "step-by step" form to request pricing online
---
SOME OF OUR MANY SHAPES - EMAIL OR CALL WITH YOUR OWN REQUESTED SHAPE
800-520-1691 ext 208
Custom Shapes from previous clients - call for pricing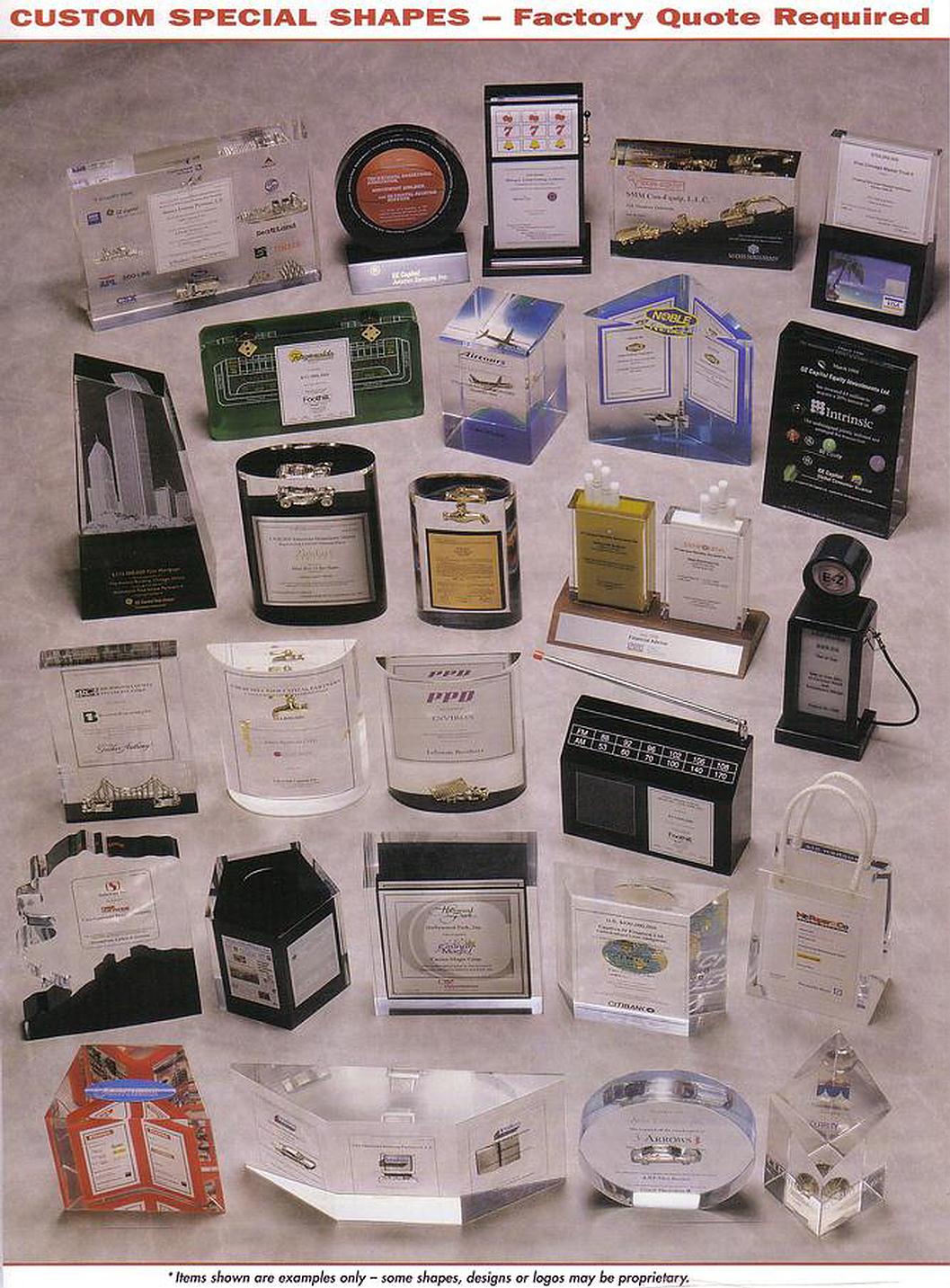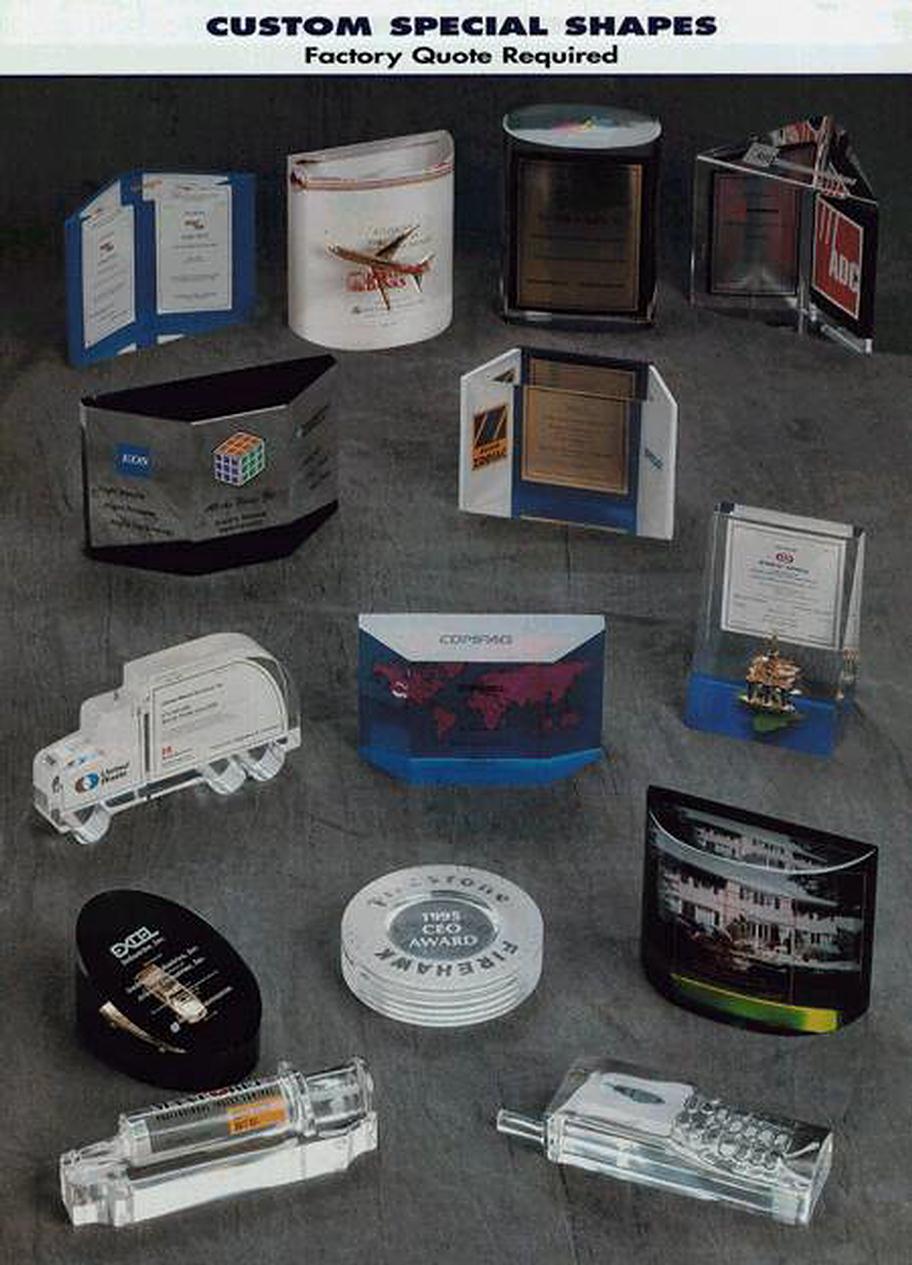 Lucite Shapes that come w/ molded bases See all here
Lucite 3D Cast Parts - from your provided photo & existing shape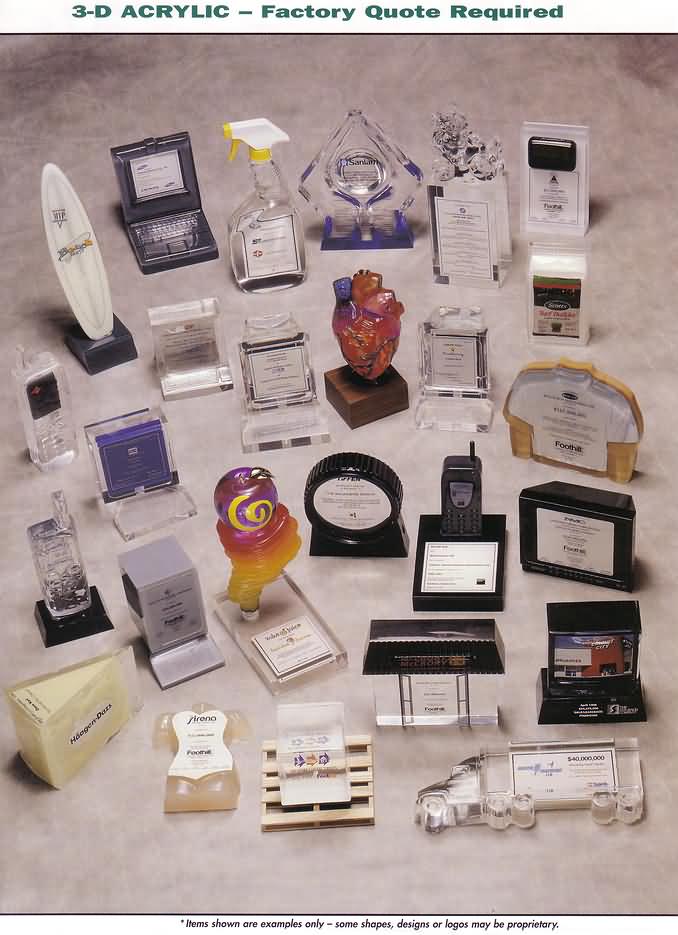 Machining - Factory Quote Required from Photo - More 3D shapes
Use this "step-by step" form to request pricing online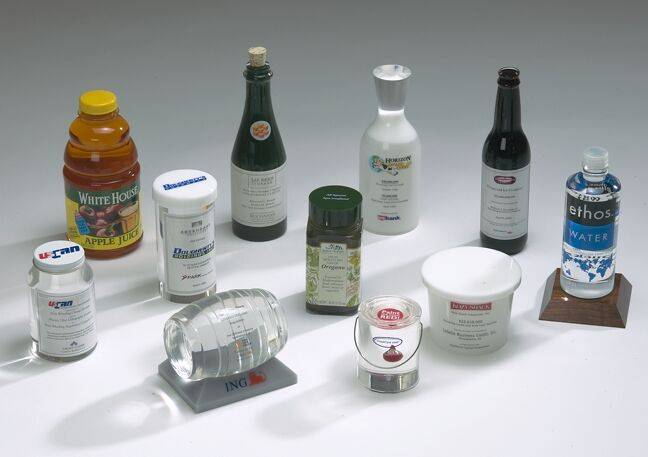 Lucite Globes in any shape - Acrylic Globe Awards Page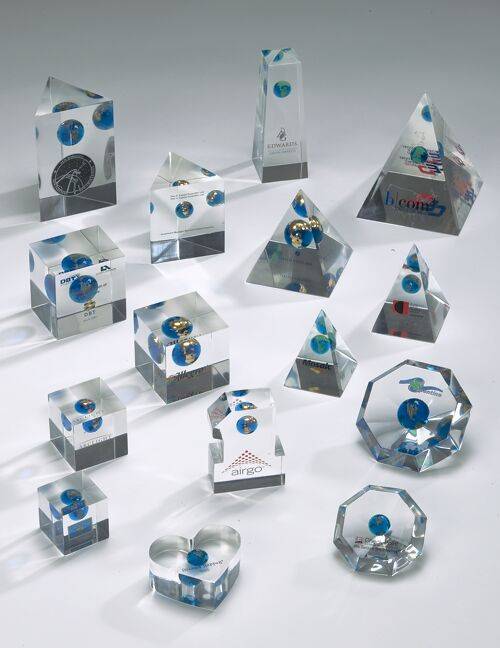 Lucite OIL DROP and Oil Awards Click here for all Oil Awards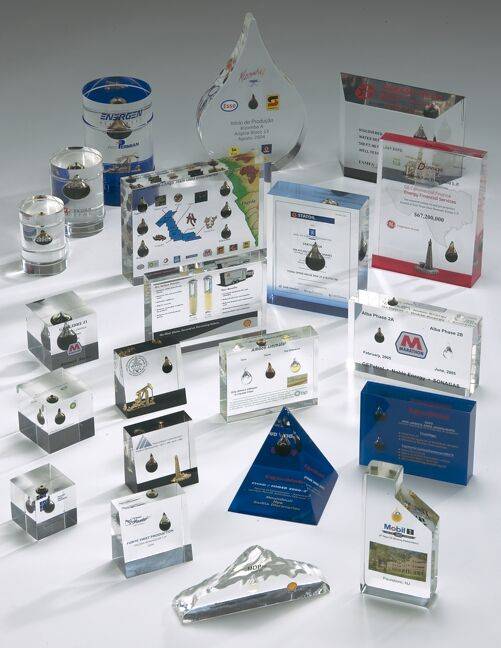 Can Cubes & Groundbreaking Lucite - Shovels in Lucite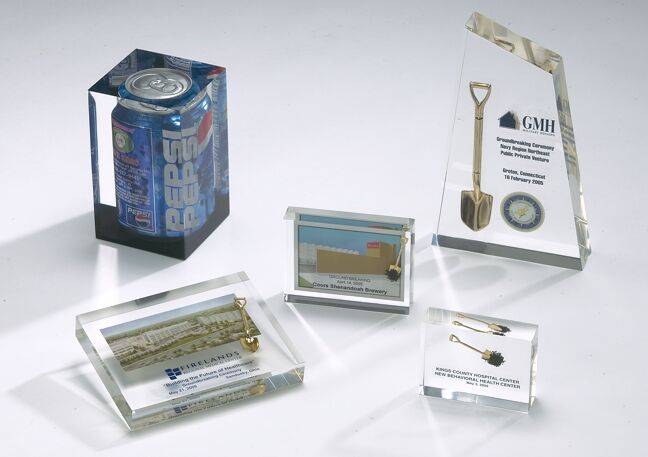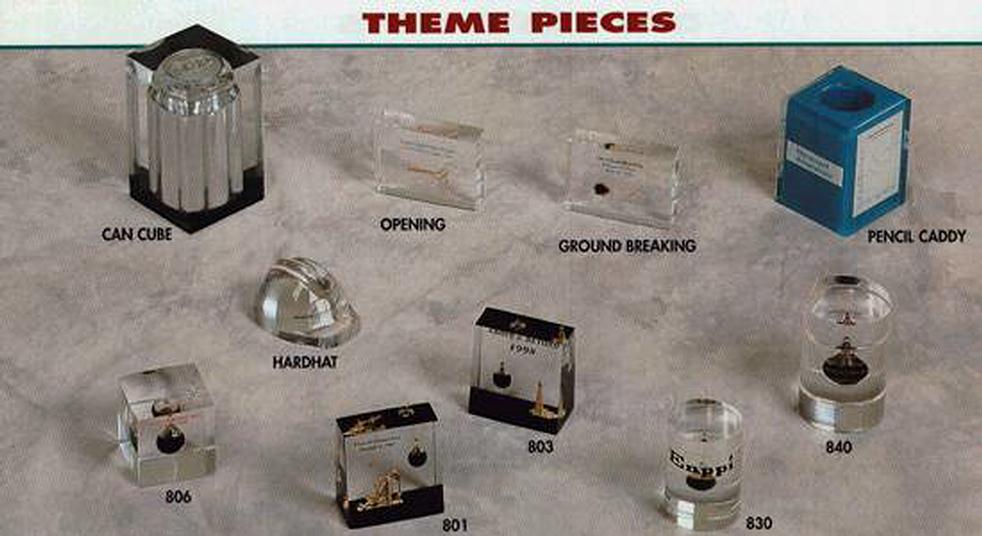 Other Awards: promotional shovels, scissors, ribbon cutting gifts, hardhats, key tags, & more
Groundbreaking Awards - Shovels - Scissors - Plaques - Keys to the City
Sport Ball Lucite Shapes

CUT ACRYLIC SHAPES - SURFACE PRINTED ONLY - CALL FOR PRICING - ANY SIZE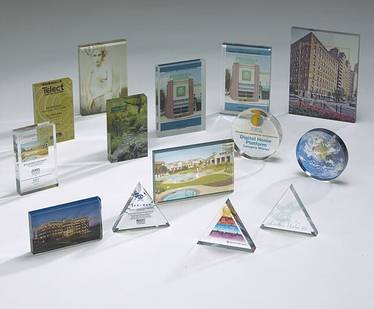 SIMILAR TO LUCITE - 3/4" thick - ART ON THE FRONT OR BACK ONLY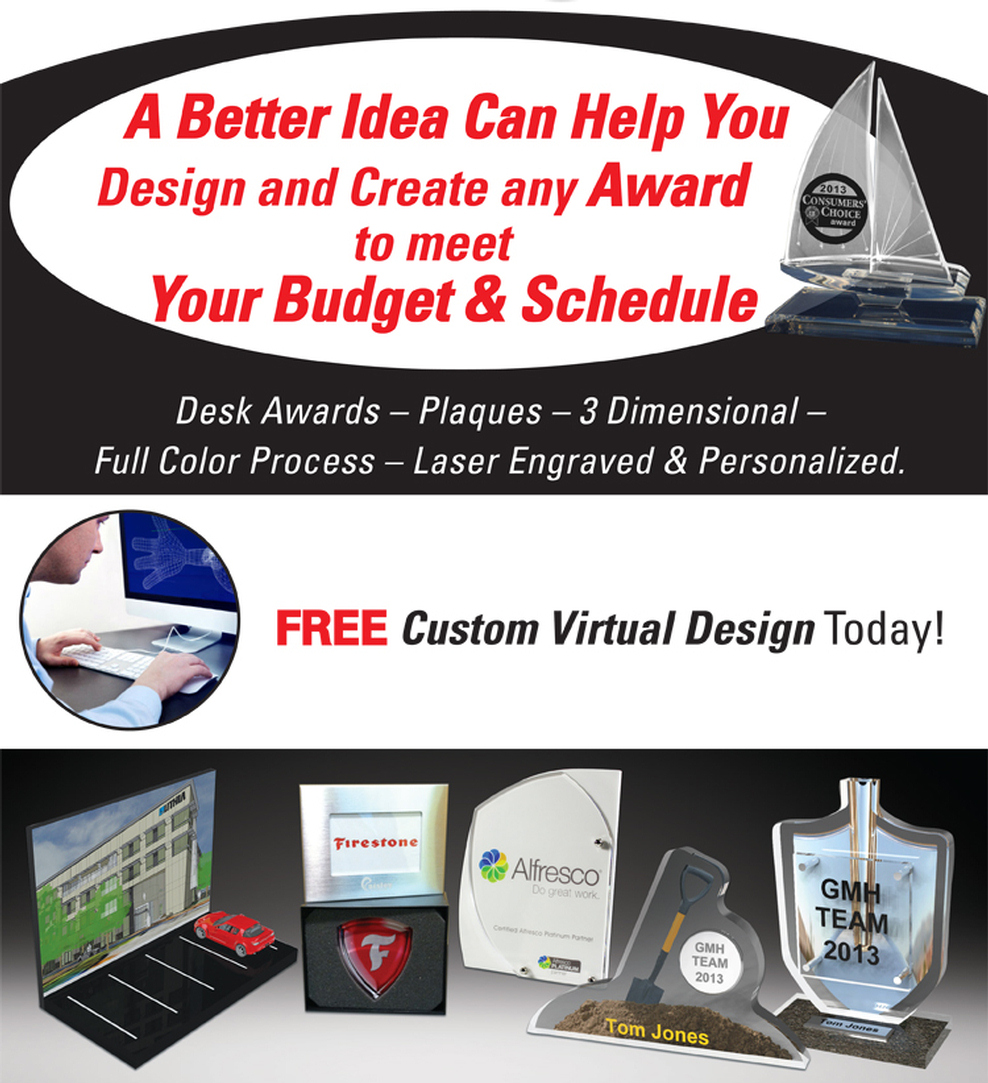 Add on: Bases - Wood or Acrylic for Lucite Orders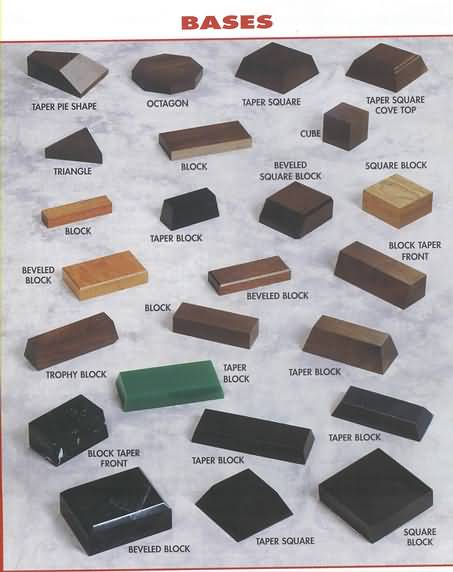 COLOR LUCITE FOR BACKGROUND OR BOTTOM ON LUCITE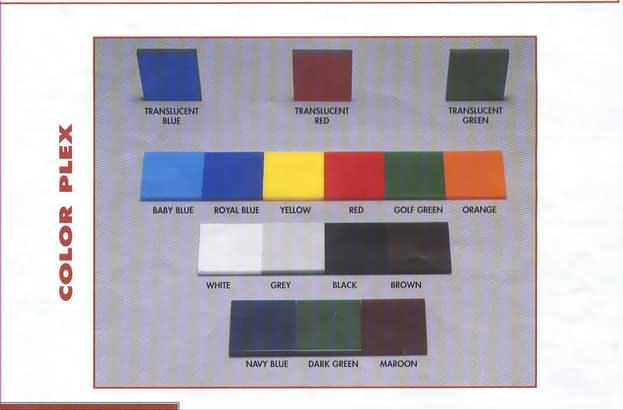 DELUXE BLACK 2- piece GIFT BOX - No Charge for all LUCITE orders
1. PICK A SHAPE FROM ABOVE FOR A QUOTE
2. DECIDE ON AN APPROXIMATE SIZE priced by size - have an approximate idea & call us
3. HOW MANY DO YOU WANT TO ORDER? priced by qty: 6-24, 25-49, 50-99, 100-249
4. WHAT TYPE OF ARTWORK OR INSERT? # of colors and sides to be printed
5. CALL OR EMAIL FOR A RAPID QUOTE: Get Quote Now! our order form
More Special Lucite Stock Shapes Detailed Quote Form
More Standard Lucite Stock Shapes Detailed Quote Form
Lucite is a transparent cast for of acrylic also known as acrylic, plexi or glass. It has fine texture and often used instead of glass because of its durability. Technically it is not a glass, but is always preferred over glass because of its easy handling and low cost. Lucite awards are used by corporate houses, educational institutes, sports events and other organizations. The beauty is that they can be customized in size, shape, and color to any client personal requirement. Every office or company has an award ceremony, a dinner, or event to honor staff or retiring officials, or the highest achieving executive. These awards and giveaways can be personalized as per organizational requirements.
Lucite embedment's are available in hundreds of shapes and sizes. Most popular shapes are rectangles, standing wedges, standing ovals, blocks, and cubes. But easels, pyramids, hexagons, trapezoids, and book shapes are popular designs. For example, Oil Companies use oil barrel designs for industry awards and recognition. Prism, Pyramid, Rounds and Stars are also part of our extended catalog. These stock shapes are made to order in your desired size and art work. If you wish to have a totally customized shape then you can provide us with a diagram, photo of desired shape, size and artwork.
Custom shapes created for previous clients are also available for reference. All customized shapes for Oil Drop Awards are priced differently. There are Lucite shapes that come with molded base, and Lucite 3D cast part is very specific to company's demand. Bases are of wood and acrylic, available in various designs and color for Lucite orders. There is large variety of products to meet your choice and budget. There is colored Lucite for background and bottom as well. In acrylic globe awards, globes are embedded in any shape. Theme Lucite like, can cube, groundbreaking and shovel awards are specific designs made for clients, where a can is embedded in a Lucite shape. Pencil caddy, hard hat, ribbon cutting gifts, key tags and more are other promotional designs. Sport balls Lucite shapes are also available. For all Lucite orders you get a deluxe black 2 piece gift box for no extra cost
There is another category of cut acrylic shapes with printing on surface and on both sides, they are similar to Lucite and they are three quarter inch thick. There are flat plaques, with surface printing. Sandwiches, is another category in which two acrylic pieces are either screwed or snapped together. Magnet frames, wall entrapments, CD holders are other promotional items. Prices vary according to shape, size, art work and quantity. Colors, engraving, and options on clear film or white card printing costs vary depending on the project. Our Lucite design team has been developing beautiful crystal clear awards for over 40 years. A Better Idea will produce the best award for your dinner, announcement, or special event project.
Submit Lucite or Acrylic Request & Quote Form
OR CALL NOW: 401-841-5646 or 800-520-1691 & ask for Lucite Quoting
PRODUCT CATEGORY PAGE LINKS:
LUCITE DEAL TOYS & EMBEDMENTS: SOLID CUSTOM w/ FLOATING DOCUMENT INSIDE cast acrylic-permanent insert-deal toys Lucite Main Page
1151 Aquidneck Avenue, Suite 498, Middletown, RI 02842 USA
home | search products | contact us | shipping + ordering information | artwork | disclaimer | online order | link to us | glossary of terms sitemap
Sales Inquiries: info@lucitetombstones.com Quotes: Online Quote Form Terms: General Terms & Conditions Artwork: Artwork Requirements
Need to translate this page? Copy the URL and Click Here

Toll free: 800-520-1691 Worldwide: 401-841-5646 How to Place an Order


Major credit cards accepted. Secure online transactions
email us:

Search Our Entire Site By Keyword, Item#, Shape or Size Here:
Copyright © LuciteTombstones.com. All Rights Reserved.