home Acrylic Plaques

acrylic "stock" plaques - thumbnails
These stock acrylic plaques are acrylic gift pieces that work well for many clients. These are not Lucite embedments but clear acrylic plaques that have a high perceived value. You cannot insert any product or text in these acrylic plaque shapes, but we can silkscreen the front or back of the acrylic recognition award and you can add a color photo for a great "3D" look. The acrylic sizes shown are standard and are priced as shown. We have other acrylic plaque sizes available.

Surface Printed Plaques - 3 full pages: 1 2 3 Plaque Pages
Certificate Holders Solid Wall Plaques 2 piece Wall Plaques Curved Plaques
2-Panel Photo Plaques Curved Photo Plaques Desk Photo Easel Plaques

Please click on the item you wish to view :

01350
PhotoImage Plaque

01351
PhotoImage Plaque

01352
PhotoImage Plaque


01305
Sm Spectra Lite Award


01306
Med Spectra Lite Award


01307
Lg Spectra Lite Award


01311
Piano Wood Award with 4 Color Process

Please click on the item you wish to view :

01300
Silkscreened Acrylic Plaque

01301
Silkscreened Acrylic Plaque

01302
Silkscreened Acrylic Plaque

01311
Piano Wood Award with 4 Color Process


01371
The Verse


01372
The Highlight


01373
The Celebrity

01376
Silver Circle Acrylic

02104
Magnet Frame

01385
Piano Wood Award Plaque

01388
Inlay Award w/ Acrylic Panel

01389
Inlay Award Plaque

01378
Silver Rectangle

02103
Magnet Frame

01380
The Classic Acrylic Plaque

01381
The Solution Plaque

01383
6" x 8" Logo Plaque

01384
8" x 10" Recognition Award Plaque
| | | | |
| --- | --- | --- | --- |
| | | | |

Please click on the item you wish to view :
01380L
Piano Wood Award Plaque with Acrylic with Lasered Imprint
Econo Flat Plaques
Certificate/Wall
Plaques

Flat Pocket
Plaques

Curved Pocket
Plaques

Event
Plaque

Post & Screw
Plaques

Print
Plaques

Sandwich
Plaques

Snap
Plaques

Vertical Style
Curved Plaques

Bevel
Plaque

Double
Plaque

Magnetic Sandwich
Plaques

---
Desktop

rectangles, squares etc. Wall

-hanging style
Credit Card

CD or Business Card

Certificate Holders Curved Plaques
1 2 3 Plaque Pages curved plaques
back to main acrylic paperweights page home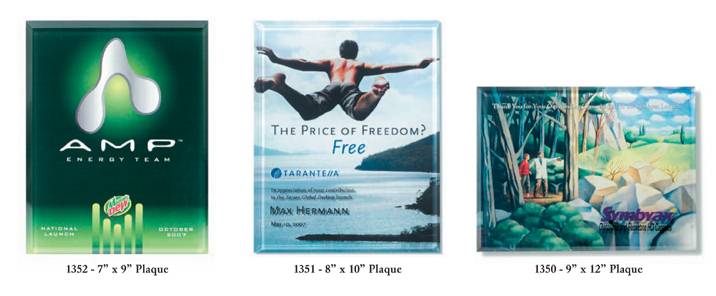 800-520-1691 ext 208
If you need to insert your logo, add a product, or make a custom size tombstone, you are looking for "Lucite"
home | search products | contact us | shipping + ordering information
artwork | disclaimer

1151 Aquidneck Avenue, Suite 498, Middletown, RI 02842 USA
FOR OUR FULL LINE LUCITE OFFERINGS VISIT OUR PARENT COMPANY SITE HERE
Copyright © LuciteTombstones.com. All Rights Reserved.
Back to Main Lucite Page Standard Shapes Page 2 Special Shapes Page 1 Special Shapes Page 2 Home