the Lucite story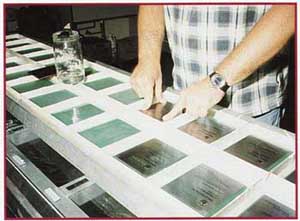 Casting
The manufacturing of acrylic embedments began shortly after World War II. It has remained one of the best kept manufacturing secrets, handed down through trusted associates. Because of the tremendous technical knowledge required, the total number of actual manufacturers remains very small. While much of the process is technically demanding, a basic overview is helpful to enhance understanding of the finished product.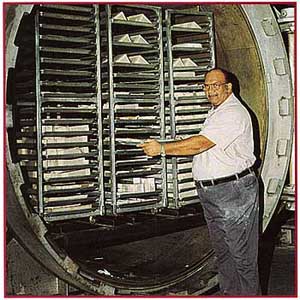 Curing

Acrylic is a high quality product. The versatility of acrylic allows it to be custom designed into a variety of shapes and sizes, incorporating many different types of embedded elements. However, due to chemical reactions during the process, not everything can be embedded.
The process starts with two basic ingredients, an acrylic resin powder and monomer, a crystal clear liquid. The powder and monomer are mixed together in specific proportions.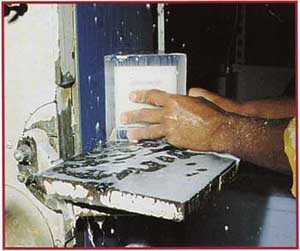 Sanding
The result is a thick, opaque liquid. The mixture is hand poured into molds and allowed to partially harden. Objects to be embedded are then hand placed into the acrylic layer. Another layer is poured over the embedded object and the acrylic is again allowed to harden.
During this stage, the liquid acrylic is an opaque, milky white. It is very difficult to center objects on multiple levels when the objects below cannot be clearly seen. Because theses embedded objects are placed by hand, no two acrylic embedments are ever 100% alike.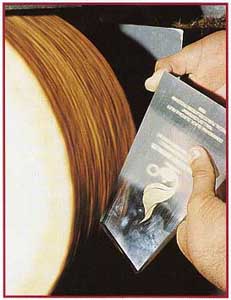 Buffing
After the acrylic has hardened, the molds are placed into an oven. There, heat cures, and pressure squeezes out the air bubbles, to completely harden the embedment. This curing process may take up to seven hours. After cooling, the acrylic embedments are removed from the molds and the sizing process begins. All acrylic parts are cast oversized to allow for shrinkage, which varies from part to part. Three steps are taken to size the embedments. The parts are ground down to size by hand on large industrial sanders. A coarse grit belt is used first, followed by a medium grit belt. A final sanding with a fine grit belt makes it easier to polish the sanded acrylic. Variations occur in this sizing process since it is all done by hand.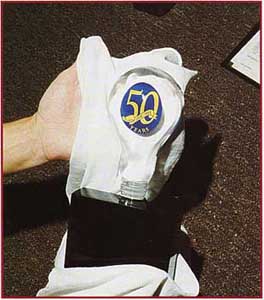 Inspection
Polishing is the next step in the process. It is also done by hand. This brings out the luster and high gloss of the acrylic not previously seen during production. A rough buffing is administered to remove all sanding lines. A final polishing then brings out the bright crystal-like finish. The production of the acrylic embedment is completed.

The final phase now begins. Each embedment is carefully hand wiped and visually inspected. If flaws are detected, the part is returned for additional finishing or rejected for recycling.

After passing through inspection, each part is individually bagged and boxed. Orders are then shipped out all over the world. Each acrylic embedment is a unique creation, ready to satisfy another customer with the knowledge that their message will be forever displayed in striking acrylic.
Why Choose A Better Idea for Your Lucite/Acrylic Awards and Recognition Items?

∑
Assists you at the creation level of your award, if you wish.

∑

Is equipped with a comprehensive computer graphics department staffed by experienced people who can accurately replicate your logos and corporate texts or receive your artwork electronically .

∑

No cost setup of all your pieces, except those which are molded in 3-D.

∑

Supplies at no additional cost prior to sample production a proof by email or by fax to validate the accuracy of the information with you.

∑

Offers you support and expert advice at all times during your project.

∑

Possesses a high production capacity that is suited to small lots and large-scale projects alike.

The Advantages of Lucite

| | |
| --- | --- |
| ∑ | Great flexibility in terms of design to produce a one-of-a-kind item. |

| | |
| --- | --- |
| ∑ | Custom shapes along with resin colors matching your specifications. |

| | |
| --- | --- |
| ∑ | Product versatility enables the embedment of certain items you supply to make the award even more attractive and noticeable. |

| | |
| --- | --- |
| ∑ | Distinctive appearance with a sparkling luster that catches the eye and a perceived value that will make any recipient proud to display it. |

| | |
| --- | --- |
| ∑ | Easy to personalize. Through the use of acetates or laser engraving, the piece can bear the recipientís name. |

| | |
| --- | --- |
| ∑ | Floating embedments within the acrylic awaken peopleís curiosity. For this purpose, metal castings , vials, and substrates can be embedded. |

| | |
| --- | --- |
| ∑ | The acrylic award is a long-lasting item people hold on to for a good many years. It can very well be given as a standalone prize or as a complement to another shorter-lived prize, such as a dinner, trip, or vacation package. |
a) Choose the shape/s you are interested in. Pick the shape from this site or fax us a diagram.
b) Settle on an approximate size you would like. (Lucite is price on volume...it's a liquid)
c) Decide on what you would like embedded. White card? Clear insert? How many sides or colors?
d) Call us for a RAPID quotation! If you have art, send us your artwork and we can get you a specific quote!
home | search products | contact us | shipping + ordering information
artwork | disclaimer | online order | link to us | glossary of terms sitemap
Need to translate this page? Copy the URL and Click Here

800-520-1691 x201
Copyright © LuciteTombstones.com, 1991-2009. All Rights Reserved.
Sales Inquiries: info@lucitetombstones.com Quotes: Online Quote Form Terms: General Terms & Conditions Artwork: Artwork Requirements